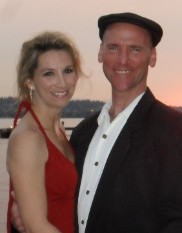 We are pleased to offer a workshop with a teacher from

Stanford's Waltz Week...
WALTZ WORKSHOP
with ARI LEVITT & WHITNEY EVANS
Sunday, October 3rd 1:30-5:15 pm
Class 1: 1:30pm - 2:45pm

including 15 min practice time
Introducing two new promenade-based waltz moves that borrow briefly from a salsa styling. We call them the "Prom-si-do", and the "Prom-si-do-with-the-leads cross-over" (or more affectionately the "Prom-si-do-go-leads-go!"). If there's time, we'll teach these using both single and double-time variations.
Class 2: 2:45pm - 4:00pm

including 15 min practice time
Teaching a delightful new traveling waltz variation we refer to as the "Ladies May Pole". We'll learn this and a variation or two in conjunction with a new entrance and exit to the promenade. Easily adapted to rotary or cross-step waltz.
Class 3: 4:00pm - 5:15pm
including 15 min practice time
We'll learn another of my favorite recent fusion-waltz creations. Whitney quickly dubbed it "The Double Dutch" (You'll see why on Sunday). It's a fluidly executed she-goes-he-goes entrance followed by a delightful pull-by finish done in rotary waltz time. Lot's of variations on the theme as well....
Workshop held at Polish Hall, 3832 N. Interstate Ave
Each class $15. Take all three for $35, if pre-registered by Sept. 30.
Prices after that increase to $17 per class and $40 for the entire workshop.
Save your spot and some money, and help with balance. Thanks!
Dancers should be comfortable with any turning waltz!
Please note. Ari and Whitney will also teach a pre-dance lesson at Random Waltz on Oct. 4. See
www.RandomWaltz.org