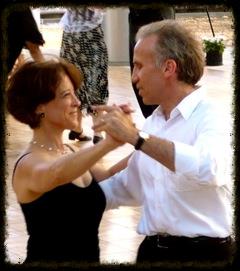 A very fun and useful workshop
is coming your way!
Swing to Foxtrot

Workshop

by Uwe & Colleen, Connect To Dance
Learn two dances and how to combine them!
Saturday, May 16, 4 - 6 pm
Fulton Park Community Center
68 SW Miles St, Portland
(map below)

$20, if signed up by e-mail to [email protected], by Friday May 15,
otherwise $25. Simply bring payment to workshop. Check or cash.

Space is limited. Early sign-up helps to secure a spot.

Learn two important American dances.
Both dances are fun, have a different feel and character, but still can be married happily together, allowing you to fill a single dance with a wide range of material. You will enjoy both dances, love the music which will
make you want to move, and learn very valuable leading and following skills
for any dance.
No partner required for the workshop.
We will rotate students, although this is optional if you prefer to stay with a partner.

As always, this will be a fun, "no-pressure" workshop.
Bring your smile! We'd love to have you there!

Students should have some partner dance or Contra dance experience.

Thank you
Uwe & Colleen